Slidin' Steve Grimshaw - Guitars & Vocals
Ernesto Richioso - Percussion & Drums
BG Muller - Guitar & Vocals
THE BEECHAM BROTHERS
Diners, Maps and Yellow Lines. 
Sich erst mal ins Auto setzen,  
losfahren und die Musik anmachen.
The Beecham Brothers, 
ein Trio aus aller Herren Länder.
Steve Grimshaw aus Cincinnati Ohio, 
an Gitarre und Backing-Vocals und 
Ernesto Richioso aus Palermo, Sizilien,
an Percussion und Schlagzeug 
bringen wirkungsvoll zur Geltung was 
B.G. Mullers hochinteressante Mischung 
aus wunderbaren Songs, Balladen, 
Gedankenspielen über das Thema, 
das uns alle bewegt, die Liebe: 
erfüllt, unerfüllt, erhofft und unerhofft, ausmacht.
Zweistimmiger Gesang, Grooves und Rhythmen, 
denen schwer zu entrinnen ist.
''Americana'' aus erster Hand.
Ein Konzert mit den Beecham Brothers 
zu hören, hinterlässt Spuren.
– Singer-Songwriter, Blues, Folk, Pop, Rock, Americana –
Die Beecham Brothers spielen Songs von Bernard G.Muller, dem Kopf der Band. Er lebte in den USA, bereiste diese und hat seine Erfahrungen und Empfindungen aus dieser Zeit in seine Songs gepackt. Dabei herausgekommen sind Balladen, Folk und mit ein bisschen Blues/Jazz angehauchte
Lieder, die den Alltag und das Leben nicht besser beschreiben könnten. Das alles wird angereichert mit genialem Gitarrenspiel von Steve Grimshaw und filigranen Grooves von Ernesto Richioso, dem Weltenbummler in Sachen Drums und Percussion. 
Festgehalten auf der aktuellen CD "Dines, Maps & Yellow Lines" ist eine Auswahl an Liedern, die während der letzen Jahre entstanden sind.
Ein Konzert der Beecham Brothers berührt die Herzen - so die Rhein Main Presse anlässlich eines Konzertes der letzten Tour.
Und die aktuelle CD ist natürlich auch immer mit im Gepäck!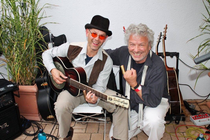 STEVE & BERNARD (Photo by DeBabba)